After we decided to have our wedding in California instead of Iowa, I knew that 80% of our guests would be traveling to the wedding. This influenced our venue decision too – we wanted a hotel where everyone could stay and just stumble home at the end of the night instead of having to mess with transportation or drunk driving. I did just find out that one of our guests who couldn't get a room (June in Napa, 'nuff said) had to sleep in his car! Our friends like to party, what can we say!
Anyway, as soon as we decided on the hotel/country club wedding at Silverado, my mom and I got to work brainstorming what to put in our welcome bags for hotel guests (AKA everyone attending the wedding). We knew we wanted to have a few items that were really nice instead of a bajillion cheap crappy stuff that said Jordan and Sean on it (sorry if that's your thing). Here's what we did…
1. Packaging
I was VERY particular about the actual bag – I didn't want to spend a ton on something that people would probably leave in their rooms and I didn't want just a paper bag. I was a little crazy about this (sorry, Mom) and I ordered at least 5 different boxes/trays to test out before deciding on the end product: the XL Black Market Tray from Nashville Wraps. I loved it because it showed off the contents of the basket – the best part! It was also more affordable than other similar options and they had great customer service. I bought the shredded paper and cellophane bags from this company too.
2. Vino
Next up we knew we wanted to include wine or champagne of some sort. I mean we got married in wine country, I think people kind of expect it! When I started looking at those cute mini champs bottles, I realized they cost nearly as much as a whole bottle of white wine. We're no dummies and knew our guests would much prefer a full bottle. We selected Uppercut sauvignon blanc – it got rave reviews!
3. Booze
Aren't these the cutest little bottles? Sometimes in Napa people get wine-ed out. Seriously, it happens. Mini Maker's to the rescue!
4. Chocolates
After a long day of travel, there's nothing I want more than something sweet. OK that's all the time, but anyway, I knew that our guests would appreciate some high-quality chocolate waiting in their hotel room when they arrived in Napa. We decided on 6 piece boxes from Anette's Chocolate – a local Napa chocolate factory. Chocolatier? Sean and I made a huge deal of it and taste tested a bunch of kinds to narrow it down to six. Wedding planning was so hard sometimes ;)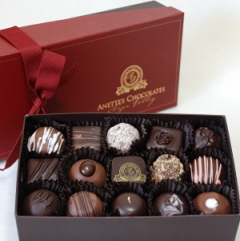 5. Pistachios
We knew we needed something salty – critical after a day of wine tasting. These pistachios had cute packaging with a wine country vibe, done and done!
6. Bottled water
Bought in bulk at Costco. Not very interesting (or photogenic) but a nice touch.
7. Google pens
Sean works at Google and gets discounts on the swag. We figured pens would be something that people could take home and use again.
8. Preiser Key
This is the Bible for Napa Valley wineries and restaurants – every single one is listed in this magazine. Better yet, they are free! The magazine, not the wineries. We know, we know, every has a smartphone and can figure it out themselves, but we figured this was still good to include for our parent's friends and anyone who wanted something tangible to use as a reference.
9. Welcome booklet
We decided to include a little "welcome to our wedding" booklet from Minted.  We included a few pictures, a welcome note, restaurant/winery/activity recommendations and then information on the wedding weekend itself. It was nice for information like shuttle locations, pickup times, etc.
That's it! We were really happy with how these turned out and I think our guests were too. It was quite the scene in the house for awhile after we packed everything up.  Thankfully my engineer husband knows how to run an assembly line, so the actual work didn't take too long.
If you're on the fence about doing welcome bags for your wedding – I say think about it carefully. If you really want to and have time to start collecting everything early, then go for it. Otherwise it's not worth the stress. This is one of those wedding things that are completely unnecessary – a nice to have, not a must-have- even if Pinterest tells you otherwise. With that said, this was one of the most fun parts of the planning (except the actual bag part – I was a psycho bridezilla about that) and I think the extra touches really made our guests happy – especially after flying halfway across the country for our wedding!